Glass design - Elegance and colour for interior spaces
Living and working in an interior brimming with light and brightness – what could be better? More than any other material, glass reflects the ethos of our times. In particular, thanks to innovative technologies this universal material now reigns supreme in terms of its creative, functional and security options. We set trends that make living with glass a pure pleasure. Especially in the case of interior design, where today the bold interplay of shapes, colours and configurations is truly in vogue. Maintaining the requisite safety standards in this respect is a matter of course.
SEMCO Marini - All-glass showers
The SEMCO Marini shower system impresses with its timeless design and numerous application options.

Our classics are SEMCO Marini Comfort featuring a lift and lower mechanism, SEMCO Marini Swing, with its swing door that opens further than the conventional 90° angle and SEMCO Marini Easy, the ideal solution for those who are uncompromising when it comes to quality and design. The SEMCO shower range is complemented by a series of smart, modern installation solutions that combine superbly with the various glass refinement options. Those looking for something special in terms of design need look no further than the Black Line Edition in the new Marini catalogue. The fittings in matt black are a stylish eye-catcher in any bathroom.

As a finishing touch, a coating of SEMCO Drop can efficiently help to keep your bathroom clean and hygienic. The surface coating causes drops of water to roll off more easily, while grime and limescale formation is considerably reduced.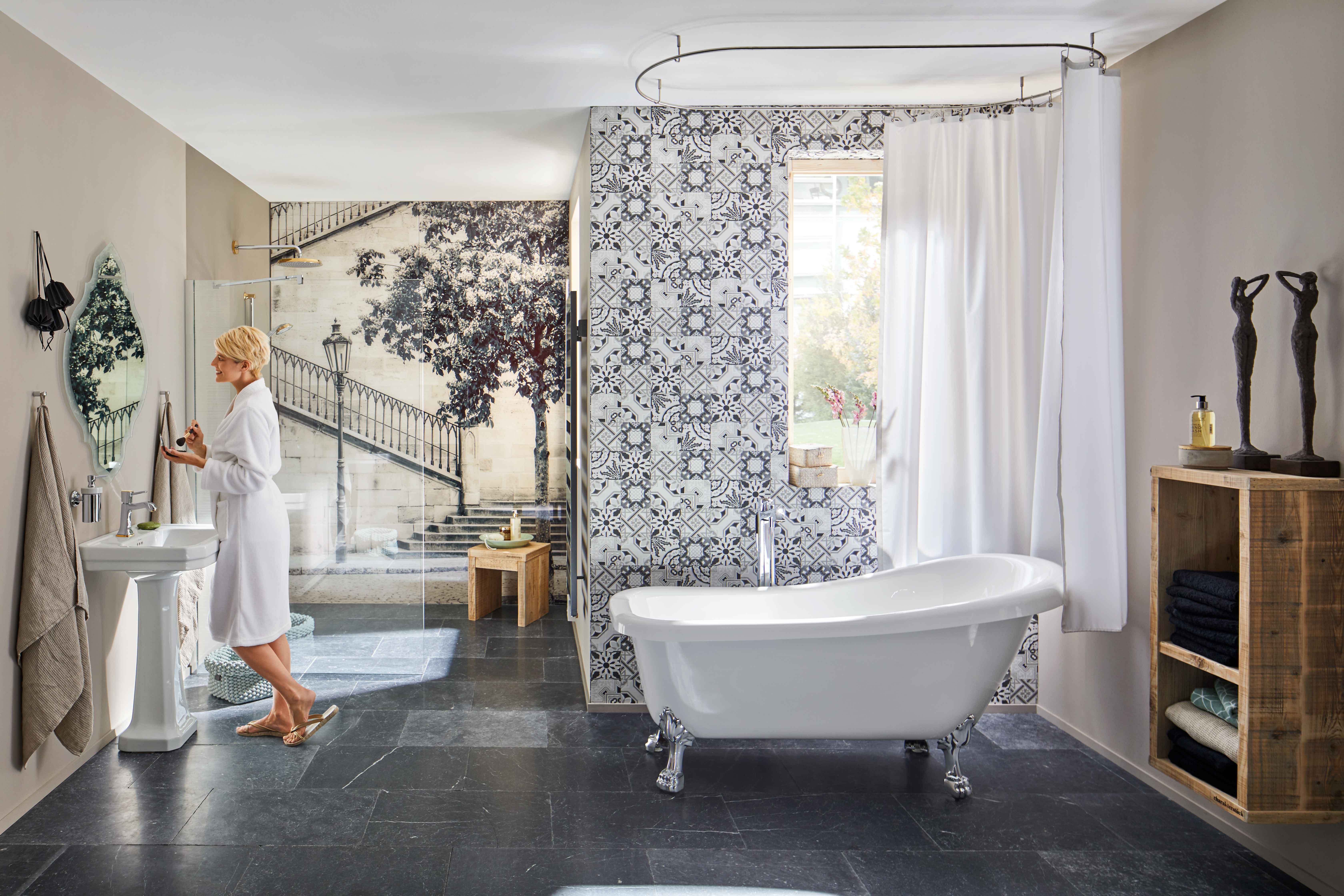 All details regarding SEMCO Marini can be found in our current product catalogue. Download the respective PDF here (German): SEMCO Marini Produktübersicht
Our high-performance glass is distinguished by its corrosion resistance and reliability in countering the damaging effects of limescale and shampoos. SEMCO Drop 2in1 impresses with its unique surface and combines easy maintenance and reliability in one product. Download the product information here (German): SEMCO Drop 2in1
SEMCO ShowerProtect is distinguished by its corrosion resistance and reliability in countering the damaging effects of moisture, limescale and shampoos. The product maintains its lustre for years and is always easy to clean. SEMCO ShowerProtect impresses with its unique surface featuring permanently baked-in and indiscernible corrosion protection. Download the product information here (German): SEMCO ShowerProtect
SEMCO Milango - A system of glass doors
The use of SEMCO Milango glass doors creates an inviting openness and distinctive room character through captivating light dispersions and unique decor.
In terms of functionality, our selected systems impress with a staggering wealth of variants and premium craftsmanship.
As a leading architectural glass manufacturer in Germany, SEMCO sets trends that enhance the pleasure of living with glass. Especially in an interior design setting, where a broad selection of shapes, colours and configurations captures the imagination.
Download an overview of our glass door range from the SEMCO Milango series here (German): SEMCO Milango Produktübersicht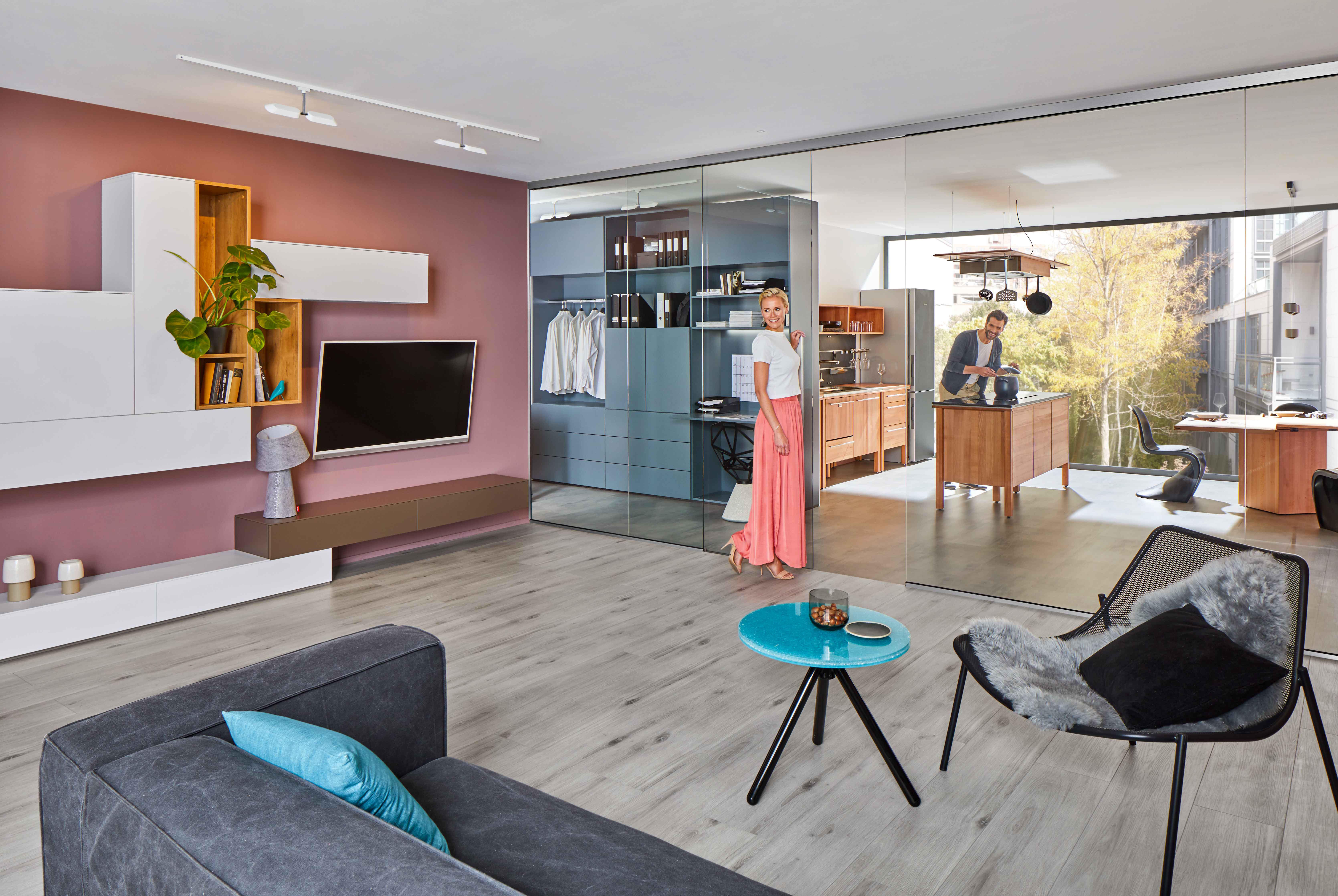 MORE LIGHT, MORE SPACE, MORE ELEGANCE - THE SEMCO DOOR RANGE
SEMCO Milango glass doors bring light into the room, adding vibrancy and elegance. Using innovative technology, the creative and functional design of the universal material glass opens up a plethora of exceptional and distinct opportunities. Create a stylish correlation between design, comfort and quality within your own four walls.
SEMCO Milango sliding doors are the result of a successful symbiosis of stylish design, a high level of comfort and superlative quality. They captivate with a broad selection of shapes, colours and designs.
Whether for a working environment or living space: Milango sliding doors from SEMCO impressively present multifaceted options for creating a light-flooded ambience. SEMCO consistently relies on superlative quality with its innovative interior system solutions.
Like no other material, glass marries the functionality and design options of interior design with a broad selection of shapes, colours and configurations.
The multifaceted options offered by SEMCO all-glass systems create an inviting openness in entrance halls and rooms. Combinations with skylights, doors, partition walls and laterals create elegant and translucent room divisions. Our attractive and imaginative decor empowers you to design your very own personal living space.
Large rooms certainly offer many benefits. However, often an alternative room division is sought, without diminishing the impression of distance and transparency. This is where a sliding wall system comes into its own.
In this day and age, offices and conference rooms can benefit from flexible space management. Mobile room partitioning elements from SEMCO Glass design make this possible. Rearranged quickly, easily and flexibly, room sizes can be adapted to the respective group size. The layout is therefore able to be used multifunctionally and efficiently.
Glass constructions - Safety for facades and outdoor applications
Wherever glass is used for a load bearing function that requires structural calculations, application of the SEMCO Safety glass range for structural glazing is a viable option. Benefiting from a group strength of 21 subsidiaries across Europe, over 40 years of experience in the manufacture, finishing and assembly of high-quality safety glass products and a knowledgeable network of specialists, we can provide custom solutions for any project. We support our customers from the planning stage right through to preparation for installation and, in the case of complex projects, gladly take up a liaison role with structural engineers, planners and installation experts. From functional and utilitarian porches to complex point-fixed facades, we are your specialists for structural glazing.
SEMCO Roof - Glass porches and roofs
A porch creates ambience, upgrades the building and serves as a genuine ornamental element in the entrance area.

Rely on SEMCO Roof to provide an open and inviting design. Special point fixtures enable the design to be installed and customised simply and quickly on any facade. General planning approval is also simultaneously delivered.

Despite the roofing, the entrance area, terrace or arcade remains bright and inviting and the style of the building is maintained.

In conjunction with the flexible application of various glass types, a structural roof and facade highlight is created.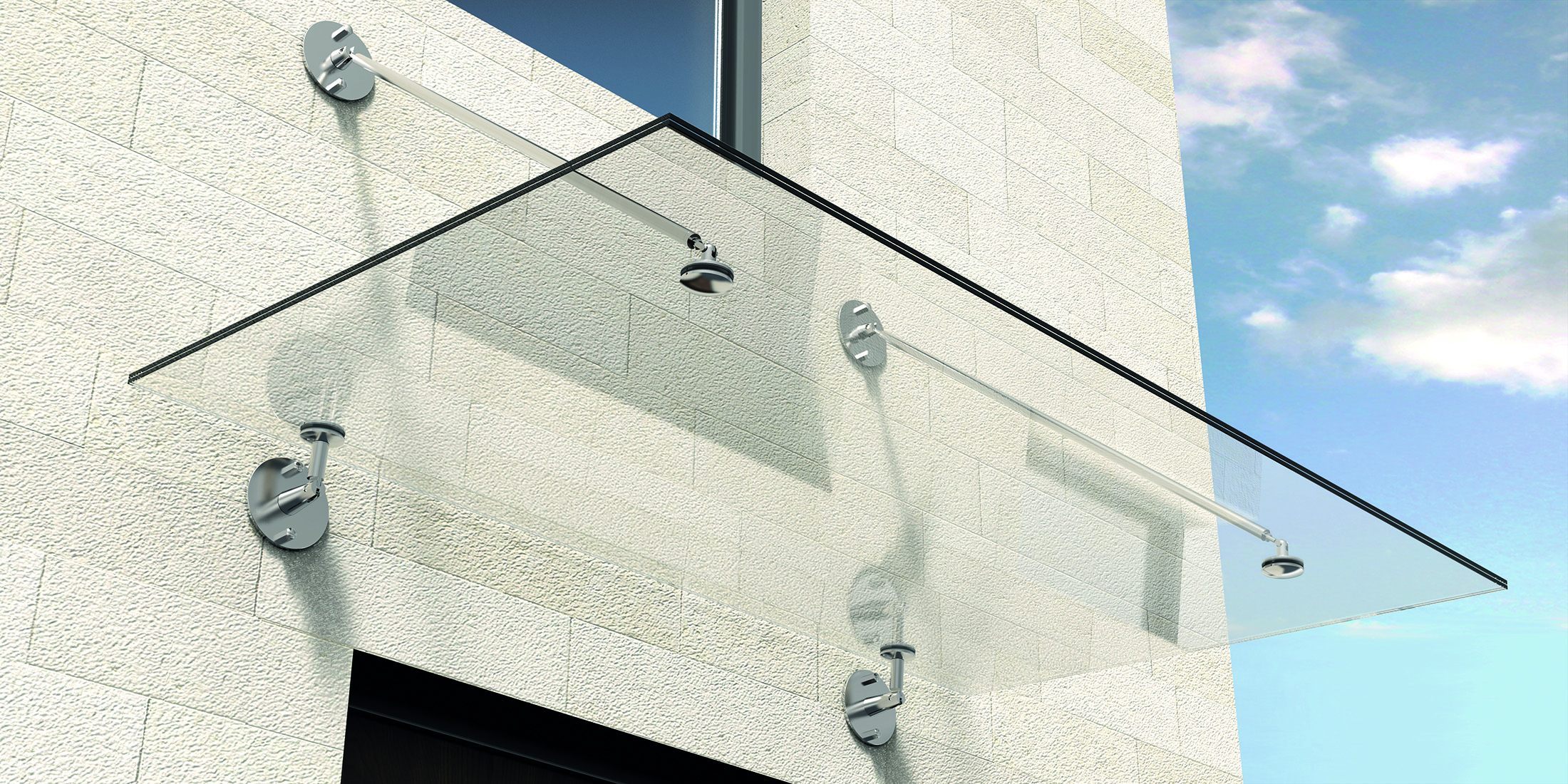 SEMCO Point - The focal point of lightness
Floating facades and transparent lightness in design: SEMCO Point brings the benefits of transparent glass facades into sharp focus. This exceptional system enables expansive glass surfaces to be framelessly created. Through countersunk holes the fixtures are flush-mounted into the panes or combined with plate holders through cylindrical bores in the glass. Everything hinges on the fact that the point-supported system is equipped with an articulated fixture, with the rotational point integrated within the glass plane.

SEMCO Point diverts any forces that occur directly into the sub-structure. The intrinsic weight of the glass pane therefore places no additional stress on the fixture area. Glass thickness can be kept to a minimum. The flawless technology encompassed by SEMCO Point facilitates the creation of inspired facade designs.