The term safety glass encompasses a variety of glass types with safety features. These are primarily differentiated between tempered glass (TG) and laminated safety glass (LSG).

SEMCO safety glass actively and passively increases the safety and security of your building. Actively by protecting against break-ins, depending on the glazing format, and passively through protection from injury in the case of shattering or breakage. In addition, for many applications the use of safety glass is prescribed by statutory regulations (e.g. DIN 18008).
SEMCO Dur - Tempered glass (TG)
SEMCO Dur is SEMCO tempered glass (TG). Tempered glass is thermally toughened glass, with toughening achieved by heat treating the glass.

Rapid, consistent heating of the glass pane and subsequent rapid cooling hardens the outer part of the pane. This treatment affords the glass enhanced impact resistance, flexural strength, resistance to ball impact and improved temperature fluctuation resistance. If broken, the tempered glass does not break into shards like conventional glass, but shatters into a closed mesh of small, blunt glass particles: a feature that elevates the level of safety. SEMCO Dur is applied in various special facade superstructures as well as interiors.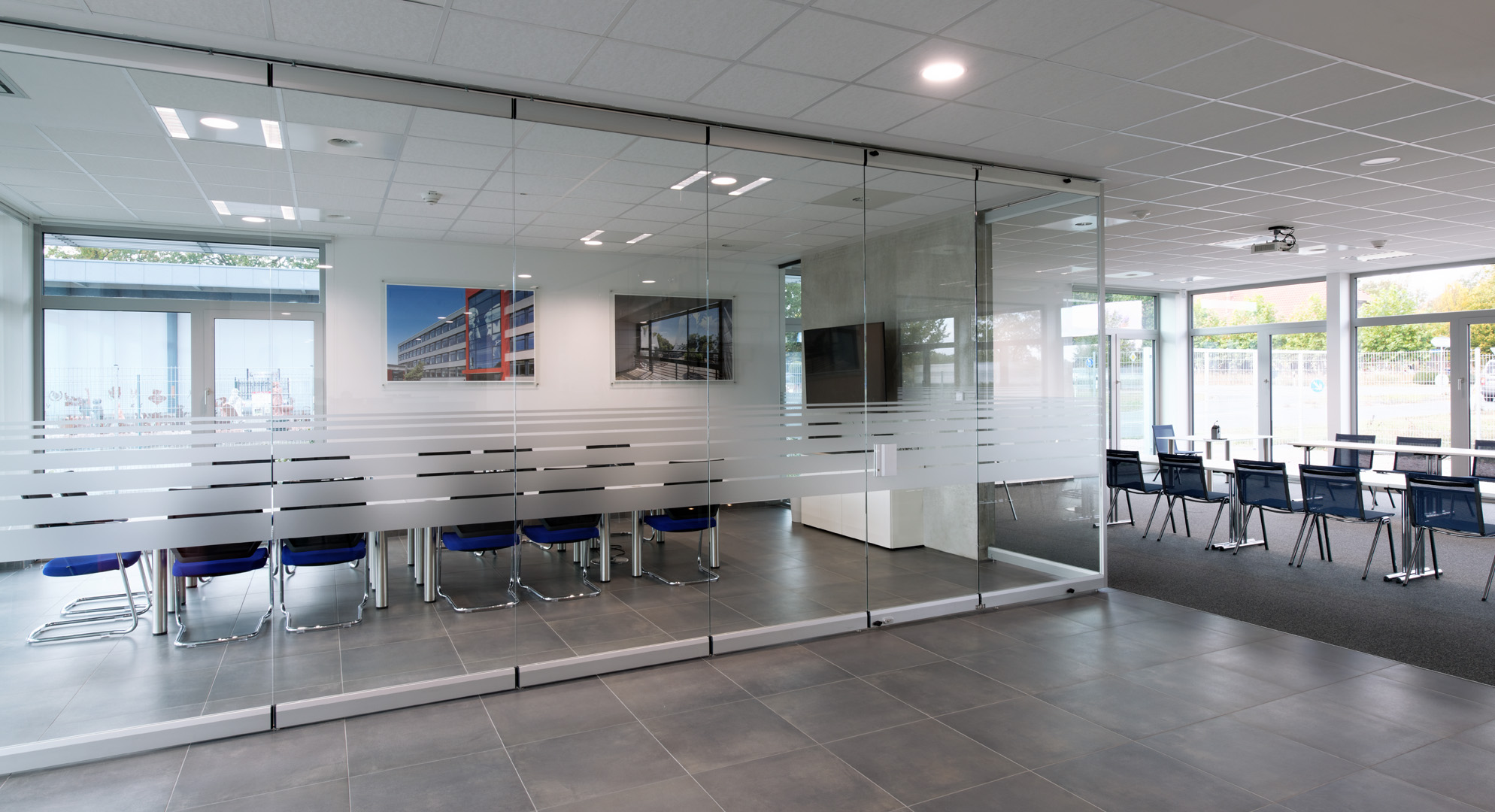 SEMCO Safe - Laminated safety glass (LSG)
SEMCO Safe laminated safety glass provides secure protection against forceful impact through various strengths of float or tempered glass (TG) being laminated under high temperature with laminate film.

Depending on the pane configuration, the scope of our safety glass performance ranges from private break-in protection through to personal and property protection with various resistance categories. Special application requirements, for example in banking or specific protection for public buildings, are clearly covered with SEMCO Safe.

SEMCO Safe can be combined with the appropriate Klimaglas, low-e glass, solar control glass and sound insulating glass.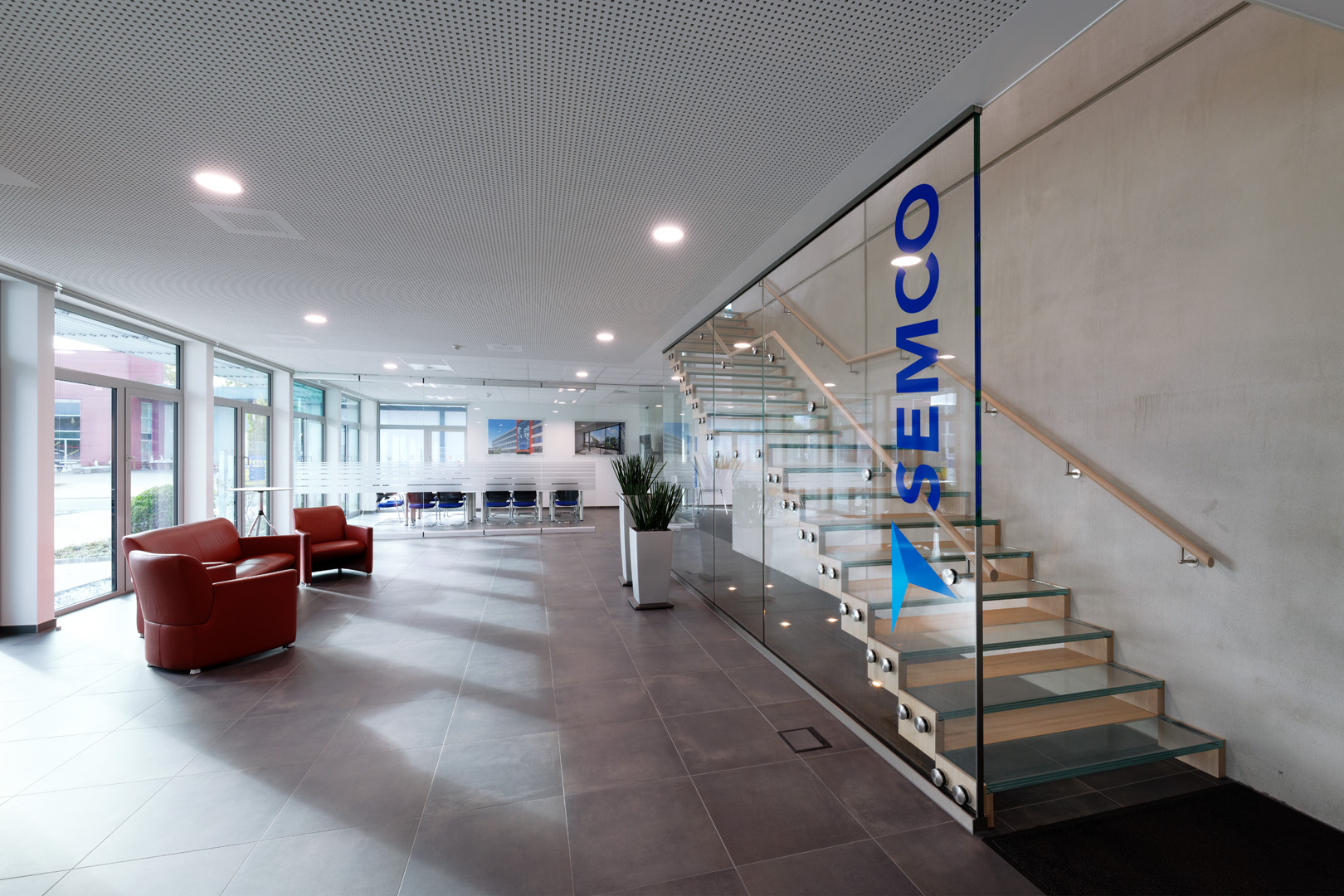 SEMCO Safety glass - A Variety of options
Individual glass panes in the laminated safety glass SEMCO Safe Sentry® are bonded with intermediate SentryGlas® film layers. The resulting high degree of rigidity opens up an extensive range of applications.

Larger dimensions and less weight are but two of the many benefits that this product offers in comparison to laminated safety glass using PVB film as an intermediate layer. SEMCO Safe SentryGlas® unlocks a range of new design options for architects and construction engineers.

SEMCO is an approved SentryGlas® processor. We are in constant communication with leading global film manufacturers to be able to provide you with the appropriate LSG products for your projects.
According to crime statistics, half of all break-ins are carried out against unsecured glazing areas. SEMCO Dur Alarm is making an impact in property security in the private, commercial and public sector. This insulating glass unit is applied in all areas in which both passive and active protection against break-ins is required. Discreetly baked in on one corner, the alarm strip triggers the alarm as soon as the surface of the glass is broken. Another feature of SEMCO Dur Alarm safety glass is its enhanced impact and shock resistance and flexural strength. SEMCO IGUs with SEMCO Dur Alarm are tested (VdS) and compatible with all conventional alarm systems. The insulating glass units are available in double and triple glazing. A combination with Klimaglas, sound insulating glass and other laminated safety glass types up to LSG P7B is also possible.
Extreme weather conditions are also becoming more frequent in Germany. Major insurance companies are increasingly demanding that glazing is also able to withstand the strongest wind loads. SEMCO Stormsafe is listed in the internationally recognised Dade County List (Miami/Florida) of hurricane-rated glazing, which is of relevance to insurance companies.
Multi-function insulating glazing with LSG safety configuration is available in three different versions, precisely adapted to the type and specifics of the respective building project. Specially-developed films ensure strength and stability in any kind of weather to keep you permanently on the safe side.
Despite decreasing figures, there are still too many break-ins in Germany. The resulting damage each year has been in the millions of euros for years. Almost 40% of break-ins undertaken were thwarted by security measures. Be on the safe side: in combination with an appropriate framing system, SEMCO Safe P6B/P7B laminated safety glass (LSG) provides secure protection against forceful impact. Application of state-of-the-art, high-performance film technology enables us to provide products in the protection class P6B and P7B that also have minimal component thicknesses of 11mm, 15mm (P6B) and 16mm (P7B).